Are you interested in seeing a summary of Bikita's show results Click here
Latest  news  2011:
Saturday the 8.th of January we went to Århus to be ready for the show the next day and to have time to visit the puppies at Bikita's breeder.  Bikita was as always a dream to travel with; she is calm and relaxed in the car, and when we get to a hotel, she is very quick to settle in, so we are able to leave the room and know she will be relaxed there too.
The show itself was organized by the Danish Rhodesian Ridgeback Club, and with 36 dogs entry. Bikita was going to show in open class, with 7 dogs as participants. The judge was Sue Simper from Great Britain, who like Roland Spörr was very thorough in her judgement, especially in judging the dogs movements.
Bikita got excellent first of all, and after that she won the open class with CK (Champion Quality). We were happy already, when it got even better, and she became the 2.nd best bitch of the day and got her 2.nd certificate. The judge was very kind and said some very nice words about Bikita, when she congratulated us…
You can read Sue Simpers critic below:
"2 year old, red wheaten – medium size – very feminine but with enough bone and substance for her size – well proportioned head with lovely quality – beautiful eye and ear-carriage – very good length of neck – adequate angulation in shoulder – good front and feet – good depth of rib carried well back – good broad loin – excellent upper and second width – good bend of stifle – low set hock – very sound coming and going – good length of profile action – good ridge – good topline and tailset."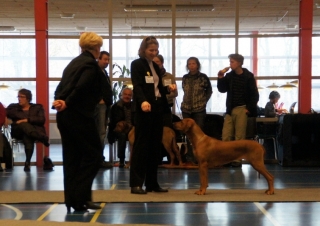 The Christmas-show the 27th November 2010
This years last exhibition was the Christmas-exhibition at the Rhodesian Ridgeback Club Saturday the 27th November 2010. It as a most cozy exhibition counting a total of 54 registered dogs and a big open class where Bikita was to participate with a total of 10 registered dogs. The judge was Roland Spörr from Austria, a very pleasant judge with a calm manner and I especially liked that he seemed to really take his job as a judge seriously and took his time to evaluate every single dog thoroughly.
Bikita did really good; she got " Excellent" – a grade which the judge only gave to one other dog in that class – and later she won the open class and was later placed as number 2 in the competition for "best bitch"
Her critic at the exhibition reads as follows:
"Elegant bitch, good frame and pigment, could have more stop, good carried ears, very good muzzle, elegant correct neckline, topline sloaping a little, sloaping croup, correct tailset and length, correct ridge, very good chest and depth, very good angulation boths ends, soft front, good paws, parallel mover, good mover with good drive, good temperament."