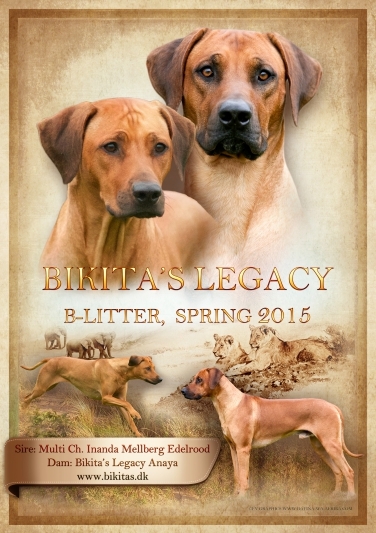 We have searched for a long time and finally found Edelrood or just Rod in Denmark was the best match for Anaya.
Rod is a familydog with an excellent temperament who also is a working Ridgeback, as his owner Elisabeth Svendsen is a professional hunting manager at Lindenborg castle. Rod is living together with his son Emil and his humans.
The following informations is from Rods own homepage: www.edelrood.dk
| | |
| --- | --- |
| Name | Inanda Mellberg Edelrood (Called Rod) |
| Date of birth | 22.06.2006 |
| Sire | INTCH Heshima Ya Kimba Energy of Red (Called Red) |
| Dam | Lionesque Clementine |
| Breeder | Marie Wijkander (Sweden) |
| Owner | Elisabeth Svendsen (Denmark) |
| Height | 68 cm |
| Weight | 42 kilos |
| Teeth | Full scissor bite |
| HD/ED | Free (A/B), 0/0 |
| DM | Genotype N/N (clear) |
| EOAD | High confidence: Clear |
| Titles | INTCH – International Champion |
| | NORDCH – Nordic Champion |
| | DKCH – Danish Champion |
| | SECH – Swedish Champion |
| | NOCH – Norwegian Champion |
| | FICH – Finnish Champion |
| | DEVDHCH – German Champion |
| | CZCH – Czech Champion |
| | SEVCH – Swedish Field Tracking Champion |
| | KLBCH – Club Champion |
| | KLBV09 – RRK – Club Winner |
| | DKKV09 – Danish Kennel Club – Breed winner |
| | ROM – Register Of Merit |
I am out of a litter of 14 – I am the only one with HD: A/B, the others are A/A
I am the 1st danish RR with championship both on show and field tracking.
I am a handsome dog with a very friendly personality and I love people – in particular children.
I am bought for hunting and enjoy it immensely, so does my owner (she is a professional hunter). My speciality is finding wounded deer.